Cyanobacteria are an ancient lineage of photosynthetic bacteria from which hundreds of natural products have been described, including many notorious toxins but also potent natural products of interest to the pharmaceutical and biotechnological industries. Many of these compounds are the products of non-ribosomal peptide synthetase (NRPS) or polyketide synthase (PKS) pathways.
In collaboration with Muriel Gugger (Collection of Cyanobacteria –  Institut Pasteur – Paris) and David Fewer (Department of Food and Environmental Sciences – University of Helsinki – Finland), we carried out a phylum-wide investigation of genetic diversification of the cyanobacterial NRPS and PKS pathways for the production of bioactive compounds. More than 450 NRPS/PKS clusters were identified from 89 cyanobacterial out of the 126 analysed genomes revealing a clear burst in late-branching lineages. These clusters could be grouped into 286 highly diversified cluster families of pathways. The complex evolutionary history of these clusters lead to the diversification of the pathways in the phylum.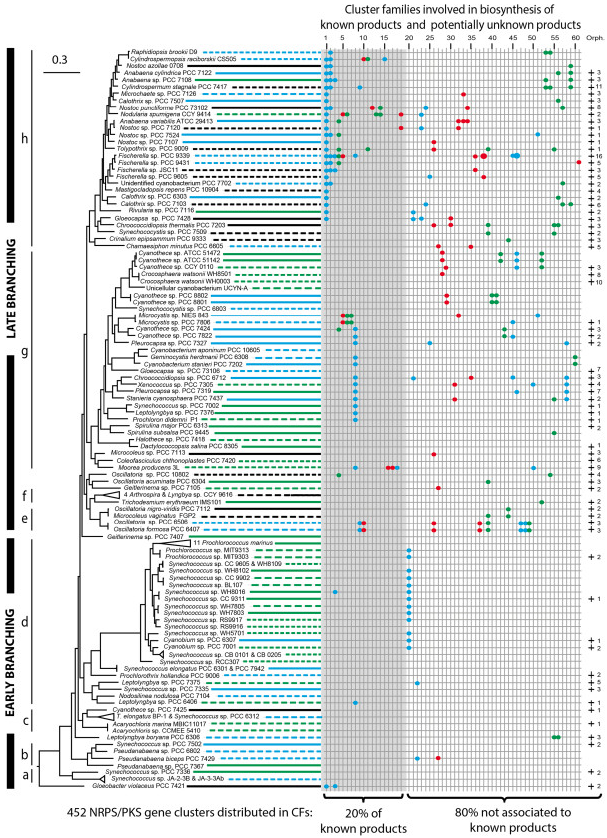 In addition to toxin production, several NRPS and PKS gene clusters are devoted to important cellular processes of Cyanobacteria such as nitrogen fixation and iron uptake. However, the majority of the biosynthetic clusters we identified  have unknown end products, highlighting the power of genome mining for the discovery of new natural products.
Further reading:
Calteau A, et al. Phylum-wide comparative genomics unravel thediversity of secondary metabolism in Cyanobacteria. BMC Genomics. 2014 Nov18;15:977.
Research Highlights: Phylum-wide comparative genomics unravel the diversity of secondary metabolism in Cyanobacteria